With southern roots and a vast amount of culinary experience, power couple Akino and Jamila West pushed through pandemic adversity to create incredible food for the Miami community through their restaurant, Rosie's. We sat down with Akino to talk about his amazing food and how the business got to where it is today.
What's the story behind how Rosie's first came to be?
It was mid-pandemic. We used to own Copper Door B&B in Overtown, down the street from Miami-Dade Arena. We were going through a lot of ups and downs as a result of the pandemic, unsure if we would get guests through the door and how long the pandemic would last. Eventually, we had to make the decision to rethink the space. We then had the idea of opening a restaurant temporarily, and already had thoughts about opening Rosie's at the bottom of our boutique hotel. We finally decided to try it as a pop-up doing to-go orders. From there, it took off.
We ended up in our new location when one of the developers in Little River came and said they had a space that they wanted to bring us in on to build out a restaurant. Their mission in Little River was to keep the community as is while making small changes. So, we took over a historic house and added on internally to make our restaurant out of that space. Right now, we're operating out of the backyard with plans to open the inside soon. There's so much character and history and this was an amazing opportunity.
That space sounds so great! Where did the name "Rosie's" come from?
It has a few meanings behind it. One is based on Jamila's mother whose name is Rosa, but her nickname was Rosie. My mom also loved roses. The name Rosie's was a great way to pay homage to all the great things that our mothers and grandmothers have done for us as they were the ones who taught us about cooking southern food.
That's so special. Speaking of southern food, what type of food is served at your restaurant?
It's a southern concept with some Italian nuances. You'll see small highlights here and there on the menu that depicts the Italian flair. It's something I really enjoy cooking and eating and have always enjoyed making pasta at home. Southern food though, is my base. It's what I grew up with, what I know and what my parents would cook. Every day, we would go over to my great-grandmother's house and she used to always have a pot of grits on the stove, always. We took that memory and now make sure we have a pot of grits on the stove every morning for our guests, and that plays a big part in our story today.
Can't go wrong with good grits! What's a fan-favorite dish you create?
Our wild mushroom polenta is a highlight. Everyone enjoys it. We also make bomb a** chicken too. Can't go wrong with the chicken and biscuits. We've been working on our biscuit recipe for the last 12 years.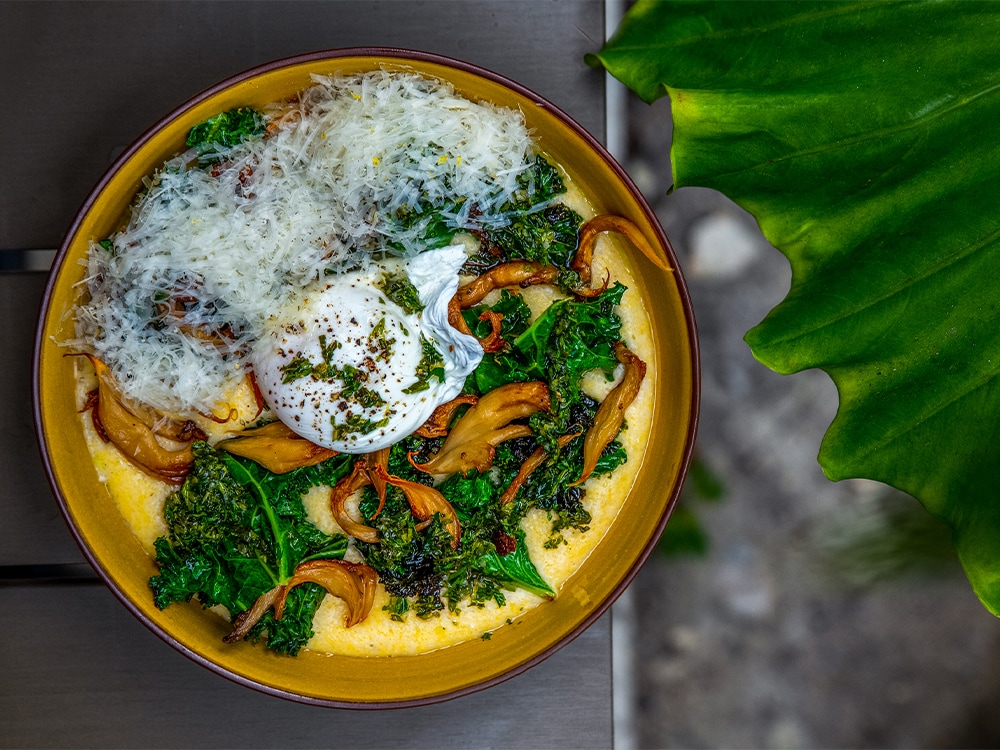 Woah. That sounds amazing. What's something you're most proud of about your business?
The growth of it. We started super small from having maybe one or two to-go orders a day to now doing 250-300 a day. It's amazing. We were also just recently nominated for a James Beard Award for Emerging Chef. To me, it means that we're being recognized for the things we're doing in our community and within the food. It also means that my team has done an amazing job as well because I can't do it by myself.
Congratulations on the nomination! We also hear you received a grant from Beyoncé's Beygood Foundation. How did this impact you and your business?
For us, being a small business, we had to find a way to pivot and find something that could help us with our business. Jamila applied and we won the grant! We took that money to build our outdoor restaurant and took the remaining funds to buy a food trailer which allowed us to have a commercial kitchen on wheels. It allowed us to expand and help our community. It was honestly perfect timing.
You mention things you've done in the community. Can you tell us a little about that?
When the pandemic originally started, we passed out 15,000 meals and worked with other organizations to also donate food to the community. It was awesome. We really enjoyed doing that and giving back. When the Surfside tragedy happened, we also worked with World Central Kitchen and shut down our restaurant to bring our food truck over there to give meals to first responders. I have so much appreciation and so much love for what they were doing. I couldn't physically go in there to help but I could at least help keep the first responders fed working those insane hours helping to save lives.
What's one piece of advice someone gave you that will stick with you forever?
I've always been taught to never change who you are. No matter how big your name gets or how much notoriety you receive, still, be the person that people know you as. That's something that my mom has always taught me, to be you. Don't be someone different as you start to grow and achieve new things.
Being a local Black-owned business, what are words of wisdom you can pass along to others looking to start their own businesses?
Get a mentor. That would be my number one piece of advice and I really do believe in this. Find someone that you look up to and someone that has a successful business. Ask them to be your mentor, sit down with them and ask them all the questions. They are the ones that will tell you what they did right and wrong, and what you're doing right and wrong. It's the only way you'll grow.
Q: I'm running late! Can I still be seated for my reservation?
A: It depends on how late you are running for your reservation. Normally, guests are allotted between 1.5 to 2 hours at their seats for a reservation, so if we believe that your arrival time is too late to be able to ensure that you and your dining partner(s) will be able to have a full and comfortable dining experience, you may have to forfeit your seat(s) in order to honor the following reservation or be moved to the waitlist. 
Q: What are your Gluten Free/Vegan Options?
A: As our restaurant is based on seasonality and availability, our menu includes limited options for gluten free/celiac or vegan diners. Please call the restaurant prior to your reservation to inquire about our gluten-free and/or vegan options, or other items that can accommodate dietary restrictions.
​
Q: Do you have a menu specifically for children?
A: We don't have a specific menu, but we can make simple adjustments to accommodate based on what's available
Q: Do you deliver or take orders to go?
A: Yes, delivery is available through third-part services like Uber Eats, Door Dash & Grub Hub. To-go orders are available via our website.
Q: Are your tables covered in case it rains?
A: We make sure all of our tables stay dry on rainy days. Some of our tables are covered, the venue is completely outside.
Q: When are you open?
A: Friday – Sunday 9am – 3pm
Q: Where are you? How can we find you?
A: We are located at 162 NW 73rd Street, Miami, FL 33150. You can find us in Google & Apple Maps under Rosie's.
Q: What is your cancellation policy?
A: We are a very small restaurant, and late cancellations/no-shows GREATLY affect the flow of service. Guests who reserve and do not extend the courtesy of canceling ahead of time in order to allow for other guests to have the opportunity to join us will be charged a fee.
Guests will have up to 48 hours before their reservation time to cancel before incurring a cancellation charge of $10 per person. You should receive a confirmation text at 24 before the day before your reservation, and a follow up at 12pm the same day of your reservation if you have not yet confirmed or cancelled. Please reach out to us if you do not receive confirmation texts.
Q: What is your corkage policy?
A: Our policy allows for guests to bring up to 2 750ml bottles each with a $35 per bottle corkage fee. The wines cannot be already featured on the wine list, which can be found under the menu section on our website. For parties of 4 or less, for each bottle purchased, the corkage fee will be waived.
Q: How can I make a reservation?
A: Guests can make reservations via the Resy booking platform at https://resy.com/cities/mia/rosiesmia or by downloading the Resy app! We can sometimes help you with a reservations over the phone. However, we do not have anyone on staff dedicated to this task, so the best bet for a reservation is a direct booking via Resy. We always recommend to guests the "notify" feature on Resy, as we get numerous same-day cancellations, which lets anyone on the notify list know of the availability.
Q: I don't see any availability on Resy. Do you have anything available?
A: All of our reservation availability is listed on Resy. If you don't see anything there, it means we are fully booked. If you don't see a reservation for the time you want, feel free to try to come as a walk-in!
Q: Do you accept walk-ins?
A: We do reserve some seats for walk-ins. These and any openings from cancellations are available on a first-come, first-served basis.
Q: What is the max number of guests that can be booked for reservation?
A: We are currently only accepting parties of 8 or less via Resy. Parties between 8-10 guests require a $500 minimum spend, 11-14 $900 minimum spend, 15-20 guests require a $1,300 minimum spend. Parties over 20 guests are required to contact us for buy-out options.
Q: Is there a dress code?
A: We have no dress code! Please be respectful but come as you are. 
Categories
Features